We've shared some great fountains before, but we're always on the lookout for inspiration.
We all know the sound of water adds a special element to a space. Just because you have a small space, does not mean a water feature is out.
Pin
The below image with the bamboo fountain was made and used on a small 5 x 8 foot condo balcony.
Do not let space limit your use of water in the garden. So prepare some pumps as you will need one for each outdoor fountain, a nozzle or tube before you decide on the sculpture. Here's 17 more outdoor homemade fountain projects to inspire and give you some ideas.
DIY Bamboo Water Feature
Pin
While a backyard by itself is a nice space, we can do a lot more than just presenting the backyard without modifications.
Since there is a lot of space and materials available, we can really use our imagination and make this space great.
One of the ideas that we can do is a bamboo water feature. This article shows readers what they can do to build a bamboo water feature in their backyards.
Add The Soothing Sound of Water With This DIY Water Feature Project
Pin
Many homeowners often enjoy improving and keeping their backyards in tip top shape. While planting plants and cutting grass is a great way to keep the backyard looking nice, there are things that can take the outdoor space to the next level. This tutorial/project is an interesting one and a great to add the soothing sound of water into the backyard.
Never Ending Outdoor Water Feature
Pin
Working inside the home all winter and now want to take advantage of the nice weather? Well if you want to make your backyard even better this tipped-over watering can never runs out of water! What's the secret and the tutorial?
Make a Garden Fountain Out Anything
Pin
If you want to spend even more time relaxing in your back yard building a garden fountain would really spruce things up… and they can be made from just about anything. Here are some tips on how to make one out of anything.
DIY Flower Pot Fountain
Pin
There are so many cool DIY projects on the internet it can be hard to figure out which is the right one for you. This DIY 2 pot flower pot fountain makes you want to get outdoors.
Copper Spiral Water Feature DIY
Pin
If you are one of the luckier people who has a bigger backyard, chances are that your backyard has a little pond or water area. While these areas are great by themselves, we can do better and add something exciting to it. This post shows readers how they can add a spiral spray to their backyards.
Copper Spiral Water Feature DIY
Mini Water Garden Oasis
Pin
Small spaces can enjoy water features too. Let's call them mini water gardens. This project shows how easy it is.
Mini Water Gardens – canadiangardening.com – Closed
DIY Garden Fountain Orb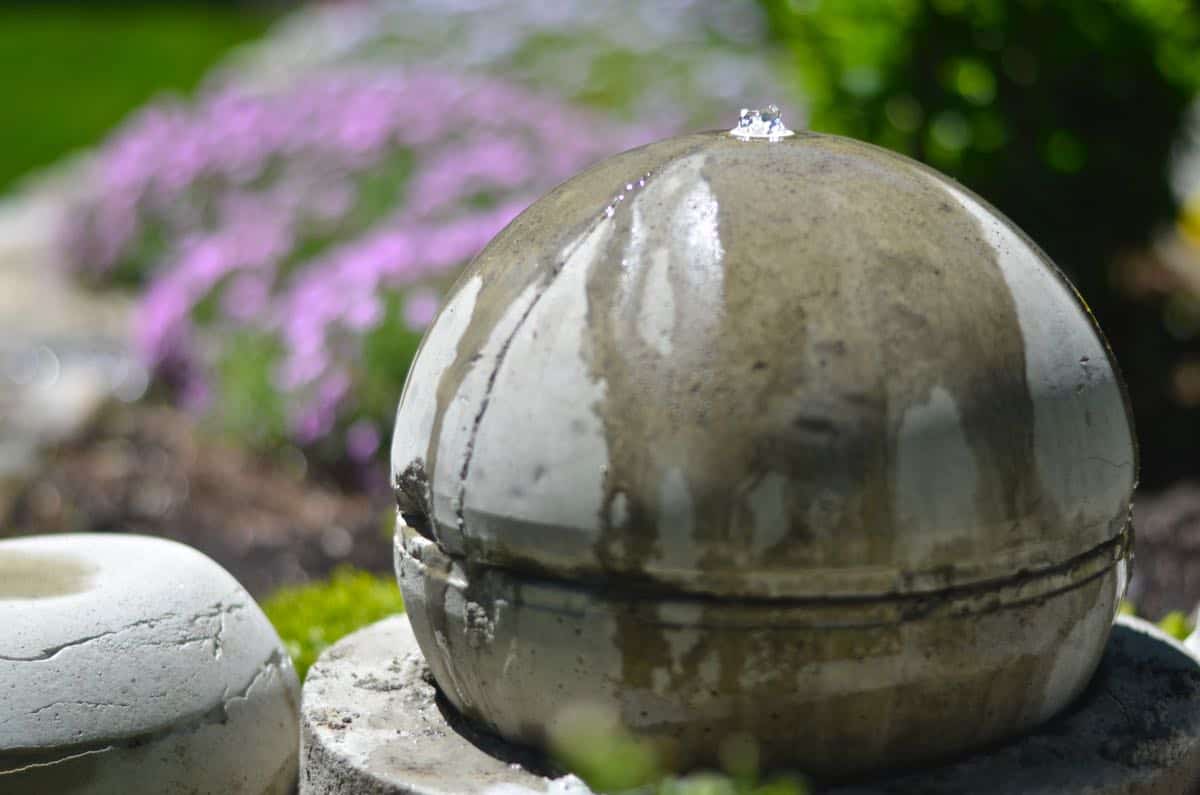 Pin
Concrete is a very versatile material. They are used in many places and they have many applications. As homeowners, we also often have some concrete leftover from our home improvement projects. While we can just throw it away, we can also use it to make our water fountains. Now, all you need is a fountain pump to get the project started.
This project shows how they can make water fountain "orbs" using concrete.
Soothing Water Fountain
Pin
When we think of home gardens or other outdoor areas, a fountain can make these areas truly exceptional. Water fountains not only make the home gardens more spectacular and eye catching, it can also attract local wildlife like birds and cats. This post from Lowe's explores some water fountain ideas that will suit all types of homeowners.
Soothing Water Feature From Lowe's
Low-Maintenance Water Feature
Pin
Here is a great DIY water fountain that takes almost no maintenance after you have got it set up. That way you can spend some time working on it now but won't have to spend lots of time keeping up with it in the future.
Low-Maintenance Water Feature – Family Handyman
Bubble Fountain in a Pot
Pin
Are you a do it your self-er that loves to try out new creative ideas? Do you love when people come over to your home and comment on all of the unique things that you have made? Well here is a really interesting bubble fountain that you can make that will definitely draw praise. This post gives you a nice break down on all of the materials you need and also how to make it.
Bubble Fountain in a Pot – scatteredthoughtsofacraftymom.com
DIY Tiered Water Fountain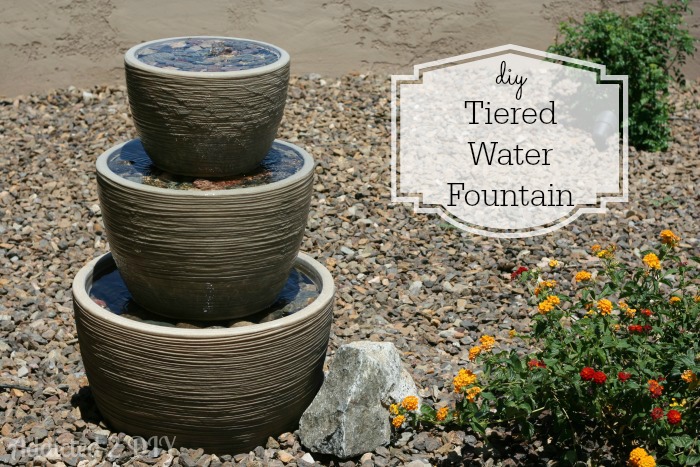 Pin
When you have guests over to your home they will be judging you. Not only on how clean and neat it is but also on how creative and unique as well.  If you want to make sure that your home stands out for the right reasons then adding this DIY Tiered Water Fountain can be a great way to do so.
To add great details, consider looking for high quality stones or pebbles.
DIY Fountain Egg
Pin
If you are looking for a fun DIY project why not try and make your own back yard fountain or deck fountain? This can be a great excuse for you to be outside in the nice breeze and it will make your back yard a much more fun place to hang out.
DIY Fountain Egg – Today's Secretive Life
Build A Hidden Water Feature
Have you been looking for a new way to put some character into your back yard? This hidden water fountain will be a perfect addition to your yard. Find out how to make it so that you can enjoy the whole summer.
Build a Concrete Stone Fountain
Pin
Your backyard living space should reflect your own uniqueness and personality. Its design should suit your needs and help you escape it all. Here's an article that'll help you build your own fountain made out of stone. With a few everyday tools and a little bit of know-how, you can create something unique and beautiful everyone will love and admire.
Simple Water Feature For Your Garden
Pin
Do you spend a lot of time gardening? That can be a great way to get outdoors and enjoy nature. It is also nice to feel like you are doing something with your hands that is for a good cause. Well if you are going to be spending so much time there why not make it more enjoyable. Adding a water feature to your garden will have you wanting to be back there working more often.
Simple Garden Water Feature
Disappearing Water Fountain
Pin
If you are going to be having some parties in the back yard this summer then you should try to put up some cool things for people to notice. This awesome disappearing water fountain will definitely draw the attention of your guests. Then when you tell them that you made it yourself they will be shocked. Here is a great link for how to make this homemade water fountain and what you will need to get the job done.
Infinite DIY Garden Fountain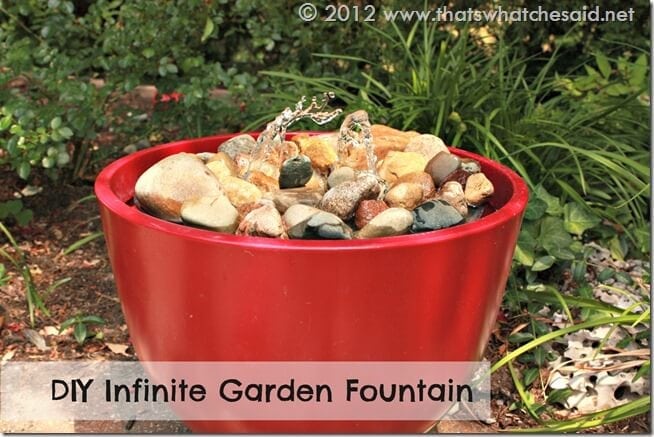 Pin
Have you ever sat in your garden and thought that something was really missing. Something that can help you relax and soothe your mind after a tough day. You just need a water pump, rocks, fountain nozzle or a hole to make the water flow possible.
Cheryl Spangenberg has a wonderful post that shows you how quick and easy making your own fountain can be. You'll be amazed at how easy this is and how much it will improve the look and feel of your garden space!
Plant Pots to Water Fountain Step-by-Step Tutorial
Pin
There are usually many objects in our backyard. We often store objects there since there is a lot of space which makes this project easier than indoor water fountains. One of the many things that we simply put there is pots for plants. There are often containers that we buy in bulk, but we never really use them all at once. While we can wait to use them all for plants, we can also use them to make a water fountain. This post shows readers how they can use pots to make water fountains.